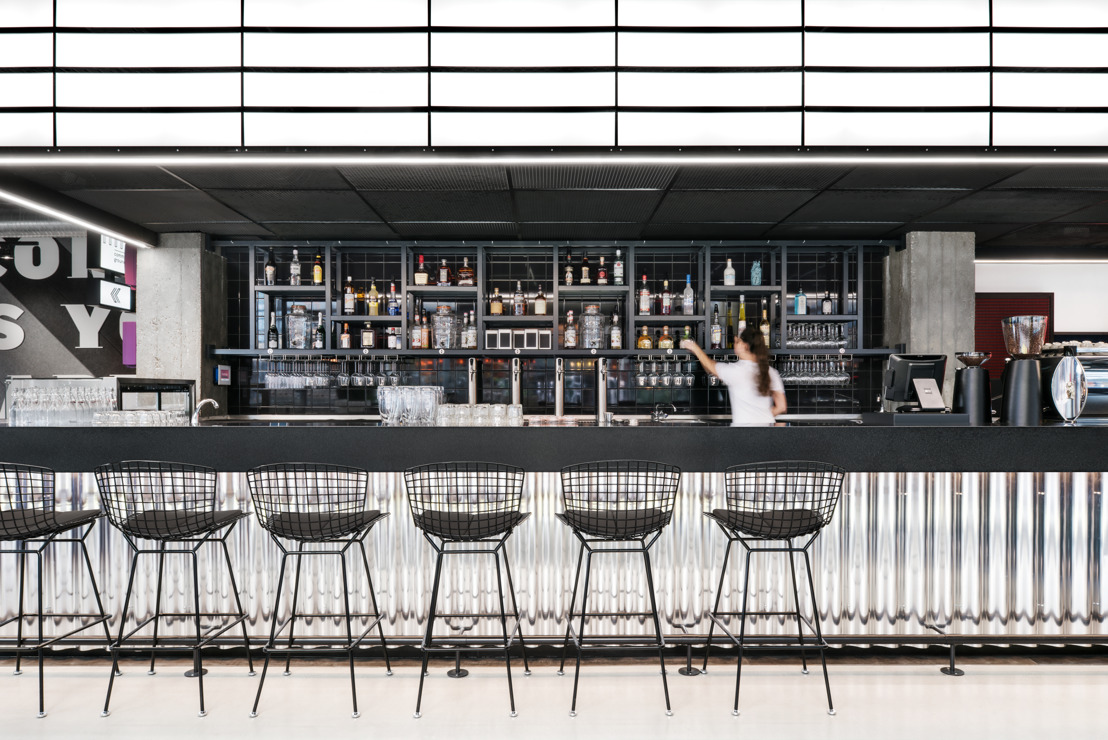 Hot tub meets hot desks as Germany's first The Student Hotel (TSH) opens in Dresden
Co-living, co-working hybrid hotel mixes tech and vintage design at Silicon Saxon's ultimate work meets life destination
DRESDEN, Germany - 12 April 2019: Dresden, the 'Silicon Saxon' city famed for its cutting-edge technology scene, is home to the first TSH in Germany. The hotel opened Tuesday 27 November 2018.
The 306-room hotel has a retro tech design conceived by TSH's own inhouse team. It draws on inspiration from Kraftwerk Mitte, Dresden's repurposed power station-come-cultural centre, and its location between the Technical University and the historic old city, Altstad.
TSH Dresden celebrates a love for old-meets-new and welcomes not just hotel guests, student residents, businesses and entrepreneurs, but also the locals of downtown Dresden.
The building has been transformed with the TSH brand of eclectic, bold and colourful interior design that incorporates vintage arcade games, bold art installations, oversized chandeliers, and the best view of the city from a roof terrace that will feature a hot tub, deck chairs and casual seating.
Charlie MacGregor, TSH founder and CEO said: "Dresden's mix of history, counterculture and tech know-how make it the perfect place to start our German journey. German culture encourages innovation and edge, and we have specifically designed this property to become the hub of creativity that this extraordinary city deserves."
Eat, Drink, Reminisce
Set to be the next study and work hotspot, the hotel's espresso bar, called Common Grounds, is open all day every day, from breakfast to beer o'clock. Bar service and music on the outdoor terrace is laid on each afternoon and evening, weather permitting. Common Grounds blends the TSH passion for coffee and food made from locally-sourced ingredients, with original music, craft beers, draft wines and cheeky cocktails.
Grab a diner-style booth or take a seat at the communal table where you can listen to music or reminisce with the help of 18 vintage TVs showing clips of popular old school TV shows.
Common Grounds seats 46 inside and 32 outside to cater for all seasons, with takeaway options available for those on the go.
TSH Collab for the co-working generation
TSH Collab is a livable, shared workspace inspired by the increasing demand for hybrid co-working communities.
Collab at TSH Dresden provides a calm atmosphere where members can rent flex-desks, dedicated desks or stand-alone offices. All memberships include free use of the hotel facilities including the rooftop area with hot tub and gym, as well as discounts on hotel rooms and at Common Grounds.
There are five offices, six dedicated desks, a flex desk area and four meeting rooms, including a panoramic rooftop boardroom.
Playful design that celebrates its location
When guests walk through the doors of the hotel they are immediately drawn into the lounge, games areas and Common Grounds cafe bar. 1980s furniture in pastel colours contrasts with the bright, bold wall graphics and industrial-style dividers.
Rooms for everyone
TSH Dresden has a mix of 306 rooms for travellers of all ages staying from one night up to one year. The rooms are en-suite and range from single to family rooms. All feature the hotel's retro tech style that includes graphics and a bright feature wall.
Students can stay for a semester up to a year and share a state-of-the-art communal kitchen. Short stay guests enjoy larger studios, while hotel guests can choose from a range of room types and sizes.
BedTalks
BedTalks is the free thinking festival from TSH. BedTalks Dresden will take place on Friday 12 April 2019.
TSH Dresden
Known as "Florence at the Elbe" thanks to its idyllic location on the banks of the river, biergartens, and its excellent examples of Baroque architecture and world-class museums, Dresden is a growing city.
TSH Dresden is located within 10 minutes of key education institutes, TU Dresden, and the historic city centre.
Address: Prager Strasse 13, Dresden

Officially opened: 27 November 2018

Number of rooms: 306 (175 student rooms, 122 hotel rooms, nine short stay rooms)

Facilities: Meeting rooms, TSH Collab co-working, common areas: reception lounge, lobby, gym, study area, terrace, roof terrace with hot tub, penthouse boardroom

Food and drink: Common Grounds all-day bar and restaurant, open weekdays from 7am and weekends from 8am

Student room rates: student semester packages from €459 per month

Short stay rooms: from €702 per month

Hotel bookings: rooms from €64 per night

Collab co-working rates: Flex-desks from €99 per month, dedicated desks from €200 per month
ENDS
Sarah Sheehan PR Manager - International, The Honey Partnership